Delonghi TCH7090ERL user manual
DELONGHI CERAMIC TOWER Heater GENUINE Remote
DELONGHI CERAMIC TOWER Heater GENUINE Remote TCH6590ER DCH2590ER TCH7090ER £13.72. FOR SALE! Remote Control MODEL: PIN: 
› Rating: 5/5. 14968 ratings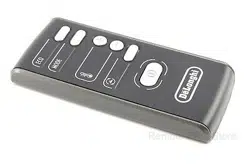 Related products of Delonghi TCH7090ERL
Delonghi TCH7090ERL documents
Below are the information on user manuals, owner's manual, installation instructions, user guides or user operations... about the Delonghi TCH7090ERL collected by zManuals that may help you.