KitchenAid REFRIGERATOR user manual
Refrigerators Designed to Keep Food Fresh
Keep your favorite foods and ingredients fresh with a premium refrigerator from . Explore our collection and find the right fit for your kitchen.
› Rating: 3.6/5. 25 ratings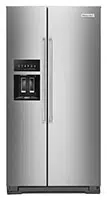 Related products of KitchenAid REFRIGERATOR
KitchenAid REFRIGERATOR documents
Below are the information on user manuals, owner's manual, installation instructions, user guides or user operations... about the KitchenAid REFRIGERATOR collected by zManuals that may help you.